FAVORITE IKEA HOME FINDS UNDER $200
Hi everyone,
During these crazy Covid-19 times I've been super into all things home improvement and decor. I guess spending so much time at home inspires you to make it more "homey" and gives you time to finally finish those little projects that you had been putting off for weeks (or months haha).
I recently did a Spring home refresher with a few items that I purchased from IKEA, which is one of my favorite places for home organization and decor items, and i'm very pleased with the results. So, I thought I'd share them with you in case you're looking for some inspiration for a quick, simple, and affordable home upgrade!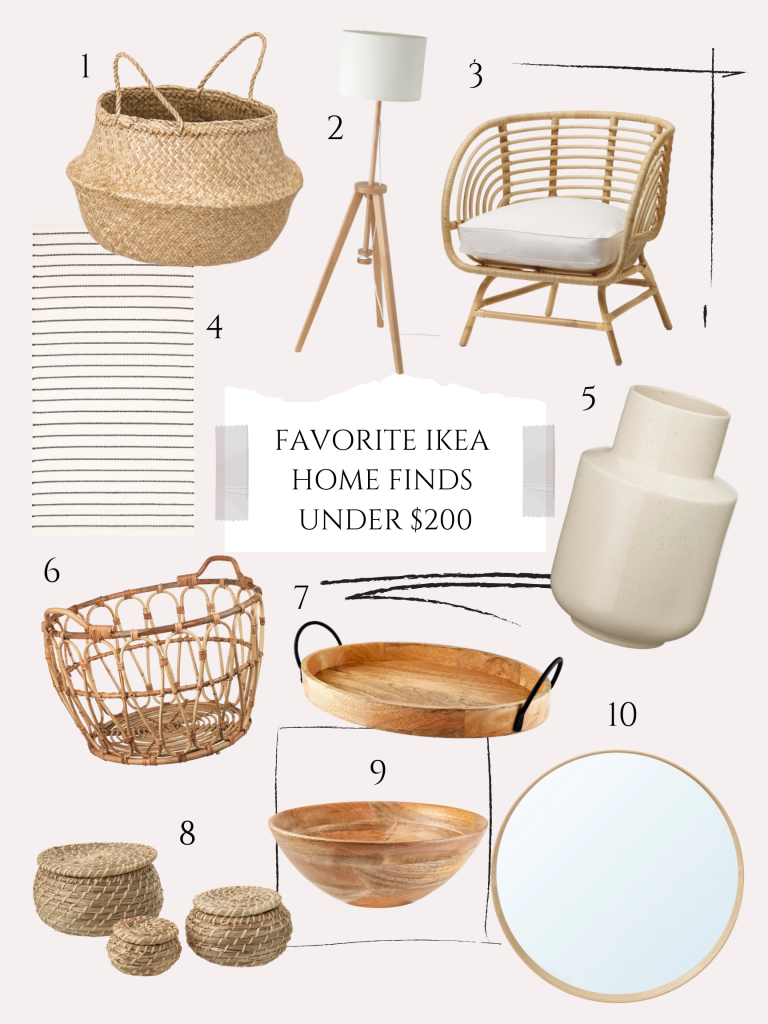 Straw Basket – I love this basket because it's great for both storage and decor. It can be used as a plant pot holder for a boho vibe or to store those extra throw blankets around the house. Personally, I use it to store dog toys and it instantly gives the room a more organized look and feel.
Wooden Floor Lamp – This super simple floor lamp will instantly add some life to your living room without taking up too much room or making it look too crowded.
Rattan Chair – This absolutely gorgeous rattan arm chair that looks super high end and will look amazing in that empty corner that you've been having trouble decorating.
Stripped Rug – This super simple yet stylish area rug that will literally fit in any room of the house from the bathroom to the kitchen.
Ceramic Vase – Another simple item that will add an accent to any room and can be styled on its own, with some faux branches, or fresh flowers for the ultimate spring feel.
Rattan Basket – Another super versatile piece that can be used for storage, from extra throws in the livingroom to extra towels in the bathroom.
Wooden Tray – This adorable wooden tray that can be used both as decor or a serving tray.
Straw Basket Set – One of my favorite items from this list, these are perfect for storing small items that can be hard to find a place for such as Q-tips and cotton balls.
Wooden Bowl – This large wooden bowl is a must have for any kitchen and perfect for serving anything from salads to popcorn.
Round Mirror – Another favorite from this list, I absolutely love the look of this mirror and it will instantly add an accent to your living room, bathroom, or hallway entrance.
I hope you enjoy this list and find some inspiration to give your home that spring refresher you've been dreaming of!
-Stephanye