10 TRENDY ACCESSORIES I WANT THIS SUMMER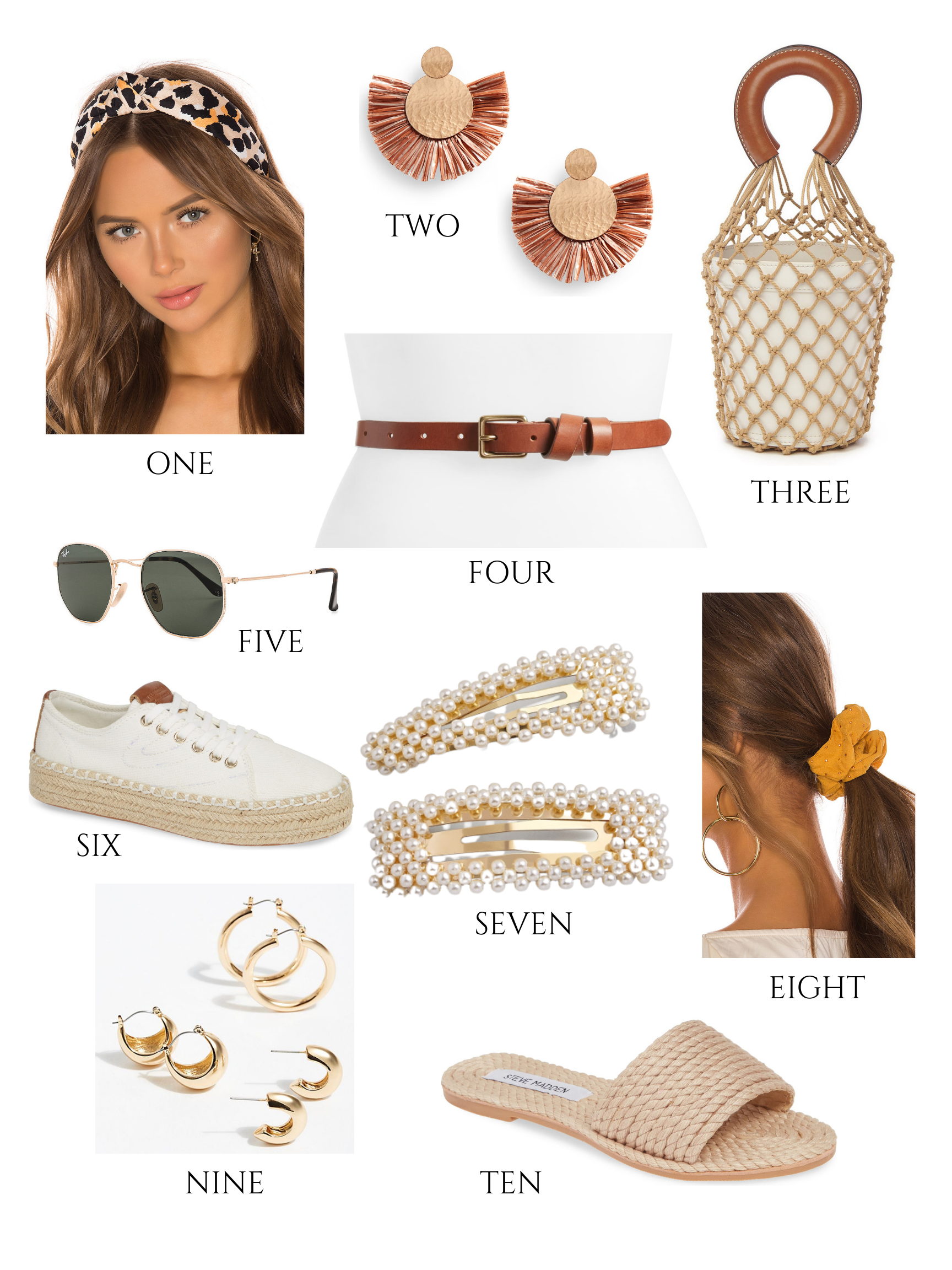 Its officially starting to feel like summer in Boston! The season of tropical getaways, rooftop bars, and sunny beach days which calls for adding new trendy pieces to your wardrobe. With the warm weather upon us, i've rounded up some pieces that I have my eye on and think that are perfect whether you're planning your summer vaca or just out and about with friends!
1 // Head Wraps – I have been seeing these everywhere lately! They're so feminine and a perfect way to add a little personality to a casual outfit. They're perfect to pair with a flowy summer dress or a cute swimsuit for a fun, beachy look.

2 // Statement Earrings – Definitely a vacation worthy accessory! I can never pass up a good pair of earrings- I truly believe that it's the perfect accessory to make any outfit pop.

3 // Trendy bags – My absolute favorite accessory this summer! From net to macrame to straw, im loving these cute summer bags that we've been seeing (literally) everywhere. They give off such a great summery vibe and i'm totally obsessing over these trendy totes for my next summer vacation.

4 // Belts – The perfect accessory to instantly make an outfit look more put together. I tend to gravitate toward simple, minimalistic looks and feel that belts are a subtle way to work in some accessories into an outfit without trying too hard.

5 // Stylish Sunnies – Must have for an effortlessly chic summer look! Whether you're spending a day at the beach or just out and about, you can't go wrong with a stylish pair of sunnies. It's truly the accessory that will never go out of style.

6 // Platform Sneakers – I've been seriously loving anything platform lately. I think they're very versatile- whether you're pairing them with a pair of leggings for a comfy airport outfit or dressing them up with a dress or midi skirt for a more dressy look, these should be your go to sneakers the summer!

7 // Embellished Hair Clips – I've been seeing these adorable pearl embellished hair clips all over instagram and i'm all for it! I love that hair clips are making a comeback and cant cant get over the timeless feel that they instantly give to any outfit.

8 // Scrunchies – Hair accessories clearly seem to the MVP's of this summer's trends. Hair scrunchies are another vintage accessory that i can't get enough of this summer. They're such an easy way to add some extra fun to a messy bun or ponytail. I'm obsessed with them for a cute beachy look.

9 // Hoop Earrings – Love this timeless accessory. I think that a great pair of medium or small hoops instantly makes a simple casual outfit more fun and will definitely be wearing them nonstop this summer.

10 // Slip On Sandals – The most perfect vacation accessory! I'm honestly amazed at how stylish these look not only with a pair of denim shorts and swimsuit coverup for a daytime beachy look but also paired with a cute dress or flowy pants as a casual dinner look.

What accessories do you have your eyes on this summer?

-Stephanye